Robert Kugler llevó a su perrita, una labrador color chocolate, a un último paseo en un viaje para despedirse de ella, que sufre de cáncer terminal. Ha documentado su viaje en redes sociales luego de enterarse de que tiene un cáncer devastador.
En un principio se le diagnosticó cáncer de hueso a "Bella", por lo que se la amputó una pata, y ahora el cáncer se extendió a los pulmones. Hace nueve años fue adoptada por Kugler cuando era una cachorrita, pero no estaba listo para dejarla ir.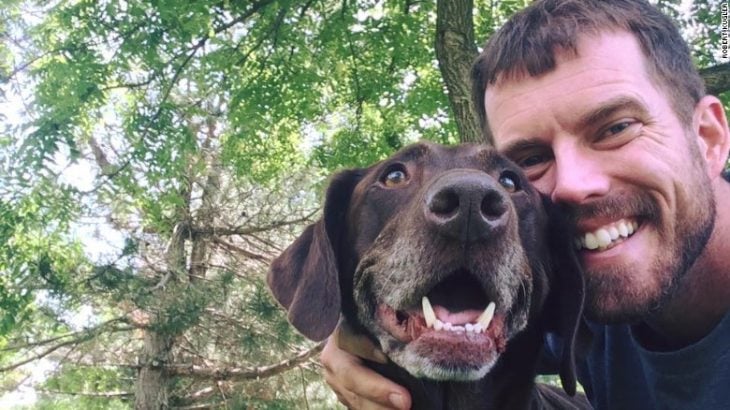 "No quería que ella ya no estuviera un día que regresara a casa. Esta es una de las más grandes conexiones que he tenido con algo viviente. No me importa que sea una mascota".
En las redes sociales dejó constancia de sus viajes mientras se dirigían a distintos lugares en el este y el sur de los Estados Unidos
"Quiero inspirar a la gente a salir y vivir. Que se amen unos a otros por lo que son y hagan amigos".
"El frío es más fácil de combatir con un perro".
Capital Building en Concord.
Grand Old Opry House
Coffee Pot Bayou
Bonita Springs, Florida
South of the Border en Carolina del Sur
Blue Ridge Parkway, Carolina del Norte
Chapman, Nebraska
The Great American Steak & Chicken House, en Missouri.
Germany Valley Overlook Cabins, West Virginia.
Parque Mark Twain en Missouri.
Forsyth Park, Georgia.
Memorial en Washington D.C.
Filadelfia.
En Boston.
Con las brujas de Salem, Massachussets.
En New Hampshire.
Frente a un mural en Ohio.
Graffitis en Detroit.
Kugler tiene planeado regresar a Nebraska no sin antes llevarla a los parques de Yellowstone y Yosemite.
"Seguirnos moviendo y ver el país es una buena excusa para pasar tiempo con mi mascota. A veces te topas con un camino de grava y te preguntas, '¿A dónde llevará?'. Así que das la vuelta y te enteras".
Según los doctores, Bella tiene una esperanza de vida de entre tres y seis meses. Este diagnóstico lo dieron el año pasado, así que ha sobrevivido más, pero saben que el tiempo es implacable, al igual que la enfermedad. Asegura que hace unas semanas, cuando jugaba en la playa imaginó un final tranquilo para ella.
"Algunos días estoy preparado completamente. La dibujo nadando hacia el océano", dice. "Pero hay otros días en que digo, ¡Dios mío! No puedo soportar pensar en eso… Nos hacemos cargo de esos animales, lo que significa que nos haremos cargo de su vida y de su fallecimiento… estar con ellos cuando mueren es el mejor regalo que le puedes dar a alguien".