Ya hemos presentado a Chad Moss, un rapero también conocido como Bow Wow que, en un intento de presumir lo que no tenía, terminó haciendo el ridículo ante millones de seguidores en redes sociales.
El chico subió una foto que mostraba lujosos medios de transporte con la que dio a entender que estaba a punto de volar a Nueva York. Minutos más tarde, un usuario de Twitter lo desmintió, tomándole una fotografía sentado en un vuelo comercial.
Lmfaooooo who's mans is this @smoss?! pic.twitter.com/MHDvIcMppG

— Osama Bin Drinkin'? (@Al_Khee) May 9, 2017
No sólo lo atraparon, sino que cientos de personas llamaron en redes sociales por un #bowwowchallenge que se hizo viral y del cual han salido muchos memes graciosos donde la gente presume de cosas que no tiene, como estos:
1. Vacaciones en Hawaii
On vacation in Hawaii #bowwowchallenge pic.twitter.com/E2TOCdfUvI

— Patrice Pannell (@patricepannell5) May 10, 2017
2. Mi nuevo Lambo… ¡no, hijo, no lo muevas!
Took the doors off the Lambo. Light work.#bowwowchallenge pic.twitter.com/GwQ4AOqtjN

— alex medina (@mrmedina) May 10, 2017
3. Una loca noche ¿de pasión?
Messy Hotel Beds w/ Bae. @Zendaya #BowWowChallenge pic.twitter.com/Lpc1zYo7Ni

— B.A. (@BdotAdot5) May 10, 2017
"Cama del hotel desordenada con mi novia"
4. Tuiteando desde el partido
Me at the stadium ?#BowWowChallenge pic.twitter.com/U2fLH43LUJ

— Wade W. Wilson ? (@gbjosh69) May 10, 2017
5. Un descanso con mis buenos amigos…
Me chilling on vacation with my best friends #bowwowchallenge pic.twitter.com/HTssuE4Bgb

— Mr.Gemini♊ (@RonG30) May 10, 2017
6. Presumiendo la relación perfecta
The perfect relationships for The gram… ? #BowWowChallenge pic.twitter.com/zqIU05CwKT

— E5QUIRE (@Dj_E5QUIRE) May 10, 2017
7. La mejor computadora Apple en el mercado
#bowwowchallenge U know I got that New New Apple Laptop…the Realest!!!..?????? pic.twitter.com/qgduPCsRKT

— Kgositsiele Mphomane (@Real_King_SA) May 10, 2017
8. El dinero con el que pagaré todos mis lujos
Just pulled some pocket change out of my bank account to stunt on you haters …#bowwowchallenge pic.twitter.com/ZwLv58p4ug

— JustbeinTRILL (@justbeinTRILL) May 10, 2017
9. Manejando mi Mercedez
"Riding in my foreign"#bowwowchallenge pic.twitter.com/tJj07yFjB0

— Sweetz (@Tea_SweetZ) May 10, 2017
10. Ordenando un servicio al cuarto
"Just ordered room service." #BowWowChallenge pic.twitter.com/iiwIesc3Vk

— Kody (@KTChambers1989) May 10, 2017
11. Incluso marcas de cerveza aprovecharon el momento
Hoy nos la damos por encima de las nubes. #BowwowChallenge ??✈️ pic.twitter.com/SZAmN8MqWw

— Medalla Official (@medallaofficial) May 10, 2017
12. Este simplemente es muy gracioso
Ultimate #bowwowchallenge pic.twitter.com/9tuz3nDjPF

— Staxxine Waters (@SupDre) May 10, 2017
13. La mentira de Bow Wow: descripción gráfica
Bow Wow: I'm on the private jet!

Twitter: pic.twitter.com/UFM97diUSw

— Legends (@LegendsofCH) May 10, 2017
Bow Wow: Voy en mi jet privado
Twitter: …
14. Manejando mi nuevo coche… no, que se creen, voy en el bus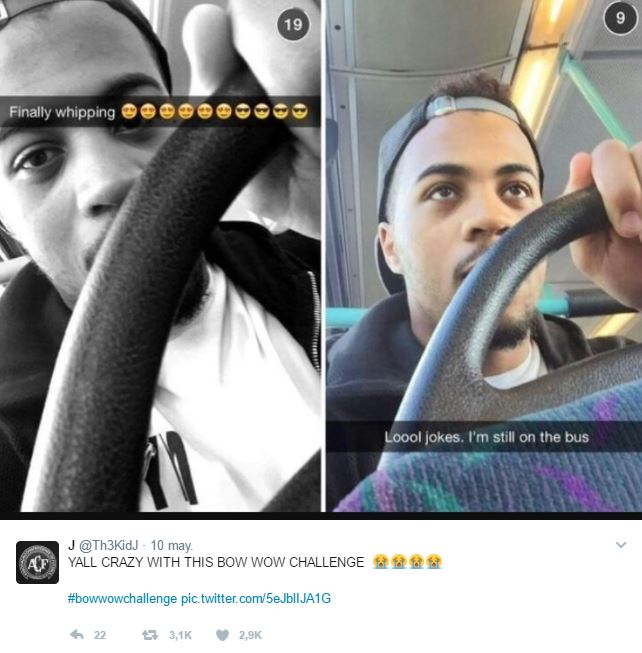 15. Mike Pence es el ganador de este reto…
Mike Pence is the true champion of the #bowwowchallenge. pic.twitter.com/2IgHNbWwy8

— Indigo (@Indi_Comments) May 10, 2017
16. Así es como algunos presumen su 'fortuna'
The tip I gave to the waiter at the Hotel yesterday #bowwowchallenge pic.twitter.com/LpLa4sCuSm

— Luwinga Breed ™ (@_wanangwa) May 11, 2017
"La propina que le dejé al mesero ayer"
17. Por fin me arreglé los dientes
Finally got my teeth fixed

#bowwowchallenge pic.twitter.com/pz1ByfN31q

— Luis Powell Moreno (@ComicLuisPowell) May 10, 2017
18. Soulja Boy ya lo había hecho antes…
I still think Soulja Boy was the originator ?? #bowwowchallenge pic.twitter.com/T10tA9l4ax

— Jack Mull (@J4CKMULL) May 10, 2017
19. Una vida de lujos, como la de Chad Moss
Im crying ??RT @Saint_Louisan: Gotta to spoil myself every now and then ??#bowwowchallenge pic.twitter.com/vFPHYQXMR3

— Eddie Kane Jr (@DeposterChild) May 10, 2017
20. Así presumió Trump su inauguración
I had the biggest inauguration of all time. #bowwowchallenge pic.twitter.com/XFJ1bDaoQz

— AL (@MissSchliez) May 10, 2017